St. Thomas Aquinas explains: "thus also will his body be raised to the characteristics of heavenly bodies — it will be lightsome (
clarity
), incapable of suffering (
impassible
), without difficulty and labour in movement (
agility
), and most perfectly perfected by its form (
subtlety
). For this reason, the Apostle speaks of the bodies of the risen as heavenly, referring not to their nature, but to their glory."
Ghostbusters
was not rebooted: it died and was resurrected, shining, impassible, agile, and subtle. From the trailers and one or two reviews I expected it'd be mugging for squees, one of those family films with a layer aimed at kids and another layer aimed at adults who like to say stuff like "adulting is hard :(" a lot ... but it ain't that in the least.
It's shining. It seems to do that thing (that I think
Orange is the New Black
and maybe
Unbreakable Kimmy Schmitt
does) where the mild psychological complexity and heft requisite for realist comedy sporadically dissolves into clomping, larger-than-life sketch comedy ... but then the realist comedy somehow reassembles straight afterward as if nothing happened, and you're back with characters you care about. It's not about breaking the fourth wall: it's about passing through innumerable walls, temporarily demonstrating your spectrality.
Reckon it needed to be five minutes longer, to give significant plot points their due weight. Ideally take like twelve minutes, and give Patty some backstory and/or development, and ectoplasm out the ghosts as characters too. Maybe the combat ontology could have been a little more firmly established before the big showdown too. Because I wasn't quite sure what their gear could do, the Ghostbusters felt even more immortal than normal characters-that-will-definitely-be-fine. Also, Zach Woods inexplicably survives a very glowy, goopy, should-really-be-game-over first brush with the undead, which kind of makes the undead look a bit dud and inept.
So how to tweak those things? Well, maybe lingering on Bill Murray's broken and bloodied body would have been one more handy reminder of the stakes for mortals. And during the back-alley gizmos showcase scene, just a boring line along the lines of, "With these new side-arms, we no longer need the box on the floor to snare these wraiths, ladies; we may dissipate their morphic resonance directly" -- and then a joke -- might have made the later haunty heiny-kicking hijinks more immediately legible and compelling. And/or your man Rowan could have had a spooky security guard helping him out at the lab as an excuse for a mini-tutorial in ghosts vs. Ghostbusters (that mini-showdown felt pretty rushed anyway). So maybe it needed to be fifteen minutes longer. But could get away with five.
Cecily Strong is brilliant and I hope she gets a bigger part in the sequel. Also ... are they
actually
almost corpsing in a proper big film in the Technobabble ex Machina bit? Kevin's character is less believable than any of the swirly baddies, but that's OK. I could have done with a little more muppety body horror and grotesque visual gags, but now I'm just nitpicking. Totes ace, Thomist af.
Or ...
What is a movie, anyway? A movie begins to be interpreted before it's even been fully shot, and those interpretations must still be interpretations
of the movie
, right?
John Milton: "The mind is its own place and in itself / Can make a Heav'n of Hell, a Hell of Heav'n."
Here's the question. Is the
Ghostbusters
eventually seen by the misogynists who are determined to hate-watch it -- and whose experience of the movie is textured and colored by their fruitful, ingenious expectations -- is that part of the real
Ghostbusters
movie or not?
I believe
Ghostbusters
got loads and loads of star ratings, both positive and negative -- mostly negative, from folk who objected to the genderflipped reboot (and the positive ones possibly in the spirit of redressing the balance) -- from people who probably hadn't seen it.
If there are real criticisms to be made of the film, maybe they should be of the swirling green CGI hell version of it, the version that deserves to be whipped into boxes with protons for its essential ugliness, the film as it is construed in the hearts and minds twisted resolutely against it. It's a version of the film I haven't really seen, maybe can't ever really see. But that's what would be necessary, to honor not only the genderflip but also the flip that was there already: the flip that makes what is dead live and what is in hell heavenly.
Also I'm glad there was a Swiss army knife in it, because (a) we've been discussing them a lot recently and (b) it reminds me of the line in the play
Woundman and Shirley
that describes Woundman as looking like "sort of a cross between Bill Murray and a Swiss army knife."
Also
Ghostbusters
could make an interesting location-based AR game. Gotta bust 'em all.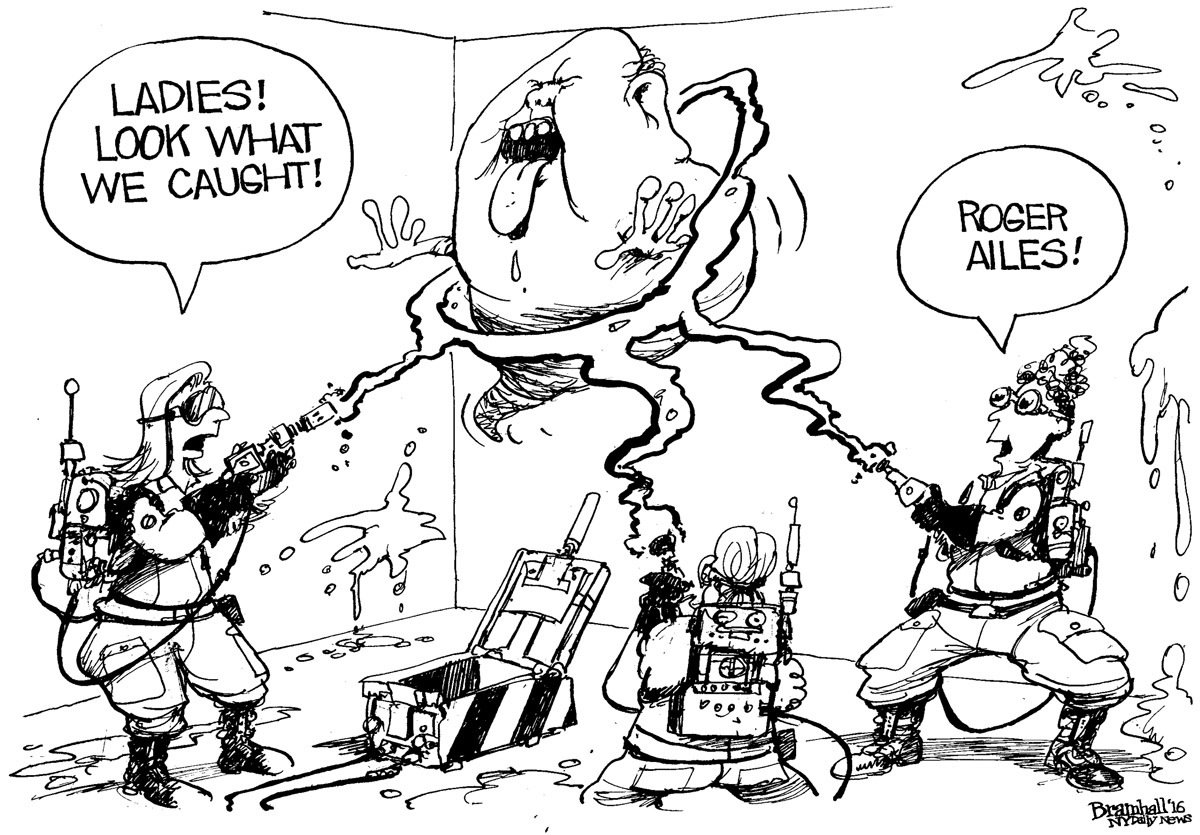 Also more like Slimo Yiannopoulos but whatever.
Also
ScotCoin
: I ain't afraid of no groats.
Also I think one of the things that stops Holzmann being just a tube for squirting kook is those moments where she gives brief, assured, no-nonsense tutorials on the stuff she's made. I feel like I've met people like that? They act out so much you think they're going to be actors or poets or something, and then you realise that they're scientists or engineers, and that blend of arrogance and joy and insecurity and yearning trollishness is actually grounded in a sense of, "fuck it, if all else fails at least I know how to make stuff." Maybe?
Also have you seen
Ghostbusters?
It's not as good as the BOO!